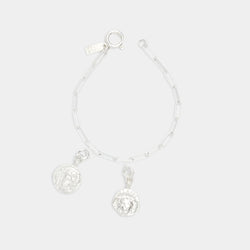 Medusa & Theodora Charms on Cairo Bracelet in Silver
Description

Inspired by ancient genuine roman coins, we decided to rewrite history with these coins' new faces: portraits of a woman in charge. Their beauty is beyond the depths of their strong souls, inspiring anyone who looks at them to push beyond themselves.
Details
Sterling Silver


6.5, 7 or 7.5 inch

Pendants sizes: 1.5 cm x 1.5 cm each
Other lengths upon request
For our size chart, click here
Please allow up to 2 weeks for this item to be made especially for you.
Handcrafted with love in Montreal xx